Artist: VA
Title: VA - Goa + Psytrance Vol 3 2012
Year Of Release: 2012
Label: Planet BEN Records
Genre: Psytrance, Full On
Total Size: 357.05 MB

PLANET B.E.N. Records was founded by the very well-known artist Planet BEN in the year 2004 and was based till April 2007 in Tokyo/Japan. From 2007 to 2010 the label was based in Hamburg/Germany.
Planet Ben also counts to the most innovative labels with releases of "milestone" character like releases by Electric Universe, Overlap, Mekkanikka, Tikal or Planet Ben.
Beside this the label always offered new talents of the scene a chance to enter the psychedelic trance stage to publish their music namely artists like Interactive Noise, Erotic Dream, Patchbay, Ilai or Strange Doctors.
Planet Ben Records is specialised in the genre Psychedelic Trance with a fine filter of so-called style "Full-on" music which is a dynamic and faster sub-genre of psytrance.
In December 2010 Planet B.E.N. Records was integrated into the Plusquam Records Labelgroup.




01. Ananda Shake – Round Trip (Electro Vision Remix) (07:46)
02. Aquatica & Ultravoice – Diamond Sky (Indra Remix) (07:21)
03. Aquatica – Angels (08:19)
04. Atomic Pulse – Your Shaperon (08:16)
05. Bitmonx – Rice N Beans (07:32)
06. Bizzare Contact & Phanatic & Electro Sun – Out of Your Love (Sesto Sento Remix) (07:45)
07. Hoogshagenii – Dalaylama (08:07)
08. Human Blue – Atom (09:30)
09. Kali – Mind Control (07:30)
10. Krunch – The Show (Dejavoo Remix) (07:23)
11. NASA – A Bit Closer (08:09)
12. Pandemic – Progender (07:29)
13. Pulsar & Thaihanu – The Alien (Tropical Bleyage Remix) (08:40)
14. Sesto Sento & Space Cat – Getting High Power (Cosmic Tone Remix) (08:13)
15. Sonic Entity – L C F (08:09)
16. Speedball – Mars Life (06:25)
17. Switch – Let the Bass Be Louder (07:36)
18. System Nipel – Psytronic (07:04)
19. Toxical – Freak Out (07:54)
20. U-Recken – The Other Side (Visual Paradox Edit) (06:51)




(You will redirected to download link after 5 seconds)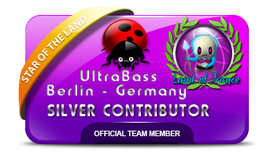 Leave your comment