Artist: Neelix
Title: Face lift
Year Of Release: 20/05/2012
Label: Spin Twist Records
Genre: Progressive Trance
Total Size: 137.07 MB

Take six classic Neelix tracks. Squeeze out their tried and tested hit potential. Mix with a hearty base of rich grooves. Season with fresh sounds and garnish with a sprinkling of exclusivity. Voila, there you have the 'Face-Lift EP'!

The result is an irresistible catchiness that breathes new life into these classic dance floor tunes. An additional remix by Symphonix and the exclusive, brand new summer tune 'Sunshine' extend the EP in terms of variety and progressive thrust.




1. Ask the right questions (Face – Lift Edit)
2. Smoke and Mirrors (Playful Edit)
3. Sunshine
4. Disco DK (Tam Tam Edit)
5. Galaxy Traveller (Neelix Rip Off rmx)
6. I didn't mean to cry (Face – Lift Edit)
7. Give them free (Face – Lift Edit)
8. Expect What (Symphonix rmx)



(You will redirected to download link after 5 seconds)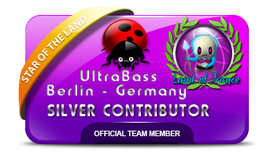 Leave your comment