Artist: Magneto
Title Of Album: Scope
Year Of Release: 29.09.2011
Label: Fractal Records
Genre: Psychedelic / Night Psytrance
Total Time: 74:25 min
Total Size: 141,0 MB
Vlad Krivoshein better known as Magneto, is russian psychedelic artist. Moving in Israel in the age of 15, where he still lieves. Discovered psychedelic music in his teen yaers, and in 2003. he has started building his own studio.. He was co-operating with a lot of big psychedelic names, like Absolum , Azax Syndrom ,Technodrome , Dapanji , Brainwash , Smashed , Freeze.




01. Magneto - Push The Shock [08:59]
02. Magneto - Zombie Mode [08:02]
03. Magneto - Origens (Album Edit) [07:42]
04. Magneto - Scope [08:21]
05. Magneto - Unusual Signs [08:41]
06. Magneto - Dips Of Memory [08:11]
07. Magneto - Quick Road [08:08]
08. Magneto Vs A-Mush - Fractal Syndrom [08:00]
09. Magneto - Madness Planet [08:21]




(You will redirected to download link after 5 seconds)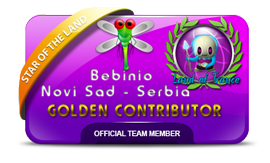 Leave your comment